Søren Ballegaard, Denmark 1975.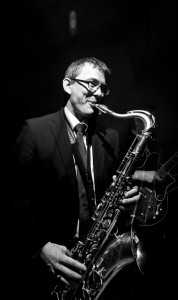 Saxophone player (tenor- and soprano -saxophone), arranger, composer and teacher.
Søren Ballegaard started at the age of 5 studying the piano, and till the age of 18 he played classical piano and gave various concerts. At the age of 19 Søren caught interest for the saxophone and the world of jazz.
After three years intense study of the saxophone he got admitted to the Royal Conservatory in The Hague, where he finished his bachelor degree, only to continue with his master's degree, performing artist, which he finished in 2005 at the Rotterdam Conservatory.
During his study he have been studying with many excelent teachers and have been involved in many projects and master classes with many very highly skilled muscians and performers, among others: John Roucco (sax), Benjamin Herman (sax), Kenny Werner (pia), Ben Van Den Dungen (sax), Rick Margitza (sax), Bennie Maupin (sax), Played on North Sea Jazz festival with Bobby Sanabrio Latin/Cuban big band, Kenny Werner big band and Peter Herbolzheimer big band.
At the moment Søren Ballegaard is involved in many different styles of music:
Træben is a jazz quartet which performs the music of the muscians in the band in Holland but also in the international scene.
Træben came out with their first cd "Nordic Project" in 2009 and their second cd "Push" was released in january 2012.
Jazz trio Jazzsupply which mostly performs at private parties and receptions have been playing on many different locations and many different people. To name a few; more times for Former Dutch Premier, Balkenende, Queen Beatrix of the netherlands by the opening of the new Europol building in The Hague, further they have played for Shell international on more occations, GelreDome, Arnhem, Vip program for Andre Rieu and the netherlands embassy in Tunis. Jazz trio Jazzsupply plays around 100 till 150 performances pr year. Søren Ballegaard´s involvement in jazz education shows in the project Jazz4kids, where he is co-writer of much of the music and also plays the saxophone.
Jazz4Kids is as the name says jazz music for kids. With jazz4Kids we play concerts for kids from the age of 3 till 12 years old.
Teaching positions: Søren Ballegaard is teaching at Codarts, conservatory in Rotterdam, NL, in saxophone methology and leading many projects for youth talents. Furthermore he is a main saxophone teacher at the VAK in Delft, the musicschool in Delft where he have 50 students.
In the pop music scene Søren Ballegaard runs the SB Showband, which is a band of proffessional pop and funk musicians accompanying singing artists. SB Showband played before a 2500 people public in 2009 in congres center in The hague with the artists, JMT and again in 2011. Further they played for a 5000 people audience at the Leiden Pleinfestival also in 2011 with the artists, Roselle, Mike Pieterson and Glenn Bell.
Søren Ballegaard is also a sideman in various pop- and jazz -music projects, works occasionally with local big bands and also writes and arranges music for many kinds of different projects.